By Amy Spooner
April 23, 2015
They've risked their lives, often incurred long separations from loved ones, and sometimes suffered injury to serve their country. And when they return home, military veterans often face legal barriers to basic needs. A new clinic at Michigan Law will be committed to reversing that troubling pattern.
Beginning this fall, the Michigan Law Veterans Clinic will represent veterans and, in some instances, their immediate families in civil matters ranging from eviction, collection, and consumer contracts to family law cases. In addition, the clinic will assist veterans with service-related matters such as disability benefits and discharge status challenges. It's an array of services that is long overdue for the state of Michigan's 720,000 military veterans—the sixth highest state total nationwide. Twenty percent of those veterans have significant mental health issues and 65,000 are under age 39.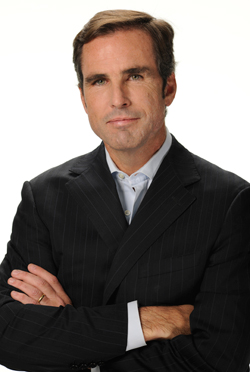 "Legal problems were never part of most veterans' lives before they went to war," said Bob Woodruff, '87, an early proponent of the idea to establish a veterans' legal aid clinic at Michigan Law. "But when they returned, many have been overwhelmed with paperwork. Some have been ignored or badly treated in terms of healthcare, and without proper treatment, they could join the growing number of veterans filing for divorce or committing suicide. There are also thousands of homeless veterans who need legal help. This clinic will provide more tools to end these issues and will hopefully serve as a model that can be replicated at other top law schools."
Woodruff, a correspondent for ABC News, has a personal connection to veterans—he was injured while on assignment in Iraq in 2006. Suffering a traumatic brain injury at the hands of a roadside bomb made him better appreciate the danger faced by military servicemen and women, as well as the long road to recovery for those who are injured. "Until I was badly hit and injured, I didn't know much about the personal lives and medical treatment of our military personnel," said Woodruff. "Because this is a voluntary military and the weapons have become much more advanced, only about 1 percent of Americans are now serving. So since most civilians are not closely connected to the military, there are certain misconceptions about veterans. However, whenever someone gets to know a veteran, they realize they are exactly like them. I want everyone to realize that we should do everything we can to fix the problems facing our veterans."
After conversations with Woodruff, in 2013 Law School administrators began assessing the need for a veterans' clinic and the feasibility of establishing one at Michigan Law. Discussions with the Michigan Army National Guard, Ann Arbor's VA Hospital, veterans-focused nonprofits, and veterans themselves revealed a severe gap between the services veterans require and what currently is available. "Michigan Law prides itself on providing exceptional hands-on training for our students while also serving the community," said Dean Mark West. "When we saw this huge unmet need, establishing a veterans' clinic seemed like a way we could enhance our students' educational experience while serving a vulnerable population."
Private support from a number of donors, corporations, and foundations is making the new clinic possible—including a lead gift from the Bob Woodruff Foundation, which was impressed by the untapped potential for the clinic's services, and its desire to work in collaboration with other units at the University of Michigan. "The Bob Woodruff Foundation seeks programs that are not duplicative and that meet unaddressed needs," said its executive director, Anne Marie Dougherty. "The incorporation of [U-M's] School of Social Work and their plan to address other collective social issues goes beyond the standard veteran benefits claims services that many organizations already handle." Another pivotal gift came from Orrick, Herrington & Sutcliffe LLP, which also intends to provide legal support on a pro bono basis. Additional private support is still needed to fully fund the clinic for the five-year pilot period.
In addition to private support, the Law School will provide significant funds— $1.2 million over five years—to underwrite clinic operations. "We get many ideas for new clinics, so we have to be very judicious about what we undertake," said Dean West. "But this was too closely aligned with our mission to pass up."
Students are excited about the latest chance to put their lawyering skills to use within the unique framework of helping establish the clinic, and the leaders of the student group Michigan Law Veterans Society (MILVETS) were especially supportive. "One of the most important questions that a law firm asks when hiring associates is whether they will bring in business. The inaugural semester of the clinic offers an opportunity to demonstrate that I have the ability to seek out new clients and build professional relationships, as well as provide valuable legal services," said 2L Lance Taylor, who is the cofounder of MILVETS.
The clinic will provide an extra special opportunity for Michigan Law students who also are veterans, said 1L Joseph Gookin, a veteran who previously worked on similar issues in a U.S. senator's office and aided homeless veterans as an EMT prior to law school. "Many of the people I encountered in my previous work either did not know where to turn for help, or had become frustrated in their attempts to do so. Now that I have deployed myself, I am beginning to understand the challenges a veteran can face in transitioning from active duty to civilian life. It will be an honor to be able to provide that assistance to my fellow veterans."
https://www.law.umich.edu/newsandinfo/features/Pages/veteransclinic_042315.aspx